Cel-Fi GO Telstra Home PRO Pack
The Cel-Fi PRO for Telstra Smart Repeater acts as a signal booster, making it an ideal product to boost and distribute a 3G/4G mobile signal within your home or office. With this mobile smart repeater supporting voice and mobile internet, dropped calls and slow internet are a thing of the past.
This is a special order item. Please allow an additional 2 business days for delivery.
Installing in the Home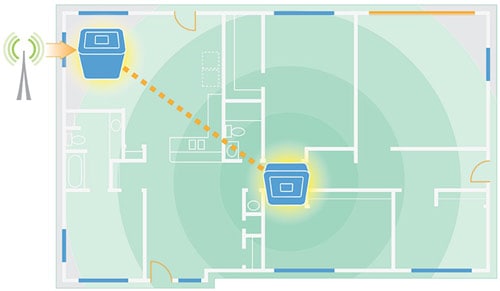 Please be aware that there are specified carrier requirements mandated for commercial installations utilising multiple Cel-Fi products. If you are considering supplying or installing multiple Cel-Fi GO devices in a larger building, it is a requirement that you contact Powertec for planning and consulting assistance, or risk your installation being removed by the Carriers.
For the PRO to operate effectively the surrounding area must not be saturated with 5GHz WiFi. You may need to switch my WiFi router to use 2.4GHz if any issues occur.
Sutible for
Home or Small Office Environment

Those who have a minimum of 1 bar of coverage within their home or office – this is usually next to a window. It is unlikely you will need an antenna unless your coverage is intermittent.

Areas that are not saturated with 5GHz WiFi. The PRO uses a 5GHz wireless link between the two boxes. There are limited 5GHz channels and if your home/office has utilised most of the channels then the wireless link between the boxes may drop, causing your phone calls to drop. Switching your WiFi network to 2.4GHz or rebooting your router to use a different channel can assist with this. For saturated 5GHz areas, we recommend you use the Cel-Fi GO.
Supported Networks
Telstra, Aldi Mobile, Boost Mobile, Woolworths Connect + other MVNO's
Nextivity's third generation Cel-Fi PRO is a cost-effective and intelligent indoor coverage solution for Telstra's Next G, 4G and 4GX networks operating supporting Band 5 – 3G(850MHz), Band 28 – 4G(700MHz) and Band 3 – 4G(1800MHz). It is designed to dramatically boost indoor voice quality and increase data speeds for 3G or 4G consumers.
The Cel-fi PRO differs greatly from the standard indoor repeater due to its ability to not interfere with the mobile network or other users. Often referred to as a Mobile Phone Booster or Smart Repeater, the Cel-Fi has the ability to provide maximum coverage, be network friendly and can be easily installed by the end-user.
Are Cel-Fi Repeaters Legal in Australia?
Yes Cel-Fi has been approved by Telstra, Optus and Vodafone" for use on their 3G & 4G networks in Australia
What's in the Box
CelFi Pro for Telstra
LMR240 Cable included
Wideband LPDA 698-2700 8/9dBi
10m cable
CEL-FI EXTENDED WARRANTY AND SUPPORT
Purchase additional warranty and support for your Cel-Fi Products
All Cel-Fi products come with standard 2-years free manufacturer's warranty & support. In addition to the existing warranty, Powertec wants to ensure you can enjoy your product for many years with trouble-free ownership so you can choose to extend this warranty by 1 or 3 years. NOT TO BE USED IN CONJUNCTION WITH ANY OTHER OFFER OF FREE WARRANTY.
Extended Warranty covers mechanical and electrical failure and starts upon expiry of the original manufacturer's warranty. An extended warranty provides for repair of your product and replacement in the case where we are unable to repair.
Extended warranty includes the following features:
30 days money back – receive a refund of your warranty payments up to 30 days from the purchase date of the product if you change your mind through Powertec.
Transfer your plan – if you sell your product you can transfer the Extended Warranty Plan to the new owner.
Technical Support – effective from your original date of purchase you are able to access Powertec's Technical Support Department help desk via the ticketing system on Powertec's website.
Reasonable wear and tear – products don't always last for the length of time they are meant too, that's why it is good to extend the warranty, just in case.
Please see Powertec Warranty & Return Policy for full details of our policy
Under your extended warranty cover, we will also guarantee:
Powertec aim to repair and return all items within 1 business day turnaround window. Due to circumstances beyond Powertec's control, Powertec are not always able to achieve this but Powertec's expectation is that all repairs will be returned within 5 working days. If your product is not fixed and returned within 2 weeks, Powertec will replace it.
Ask Powetec for a loan unit if you must have your product for business or health reasons – under your extended warranty Powertec will provide free delivery and collection of a replacement unit. You will need to purchase the replacement unit itself but Powertec will refund you on its return to Powertec.
If your product requires more than 3 visits for repair, Powertec will replace it.
Benefits of extended warranty cover that are not covered under the Australian Consumer Law
You will have peace of mind knowing that if the products you purchase are faulty, they are covered for a specific time period. Your purchase guarantees you certainty for the period of coverage and knowledge of the solutions that Powertec will provide you if something goes wrong.
You will have an experienced technical staff member manage your repair and/or replacement, keeping you updated on a regular basis with progress
You will be provided with a specific repair time guarantee
Availability of a loan product
Access to Technical assistance via Powertec's ticketing system
Powertec goods and services come with guarantees that cannot be excluded under the Australian Consumer Law. For major failures with the service, you are entitled:
to cancel your service contract with Powertec, and
to a refund for the unused portion, or to compensation for its reduced value from Powertec.
You are also entitled to choose a refund or replacement for major failures with goods. If a failure with the goods or service does not amount to a major failure, you are entitled to have the failure rectified in a reasonable time. If this is not done, you are entitled to a refund for the goods and to cancel the contract for the service and obtain a refund of any unused portion. You are also entitled to be compensated for any other reasonably foreseeable loss or damage from a failure in the goods or service.